02 February 2018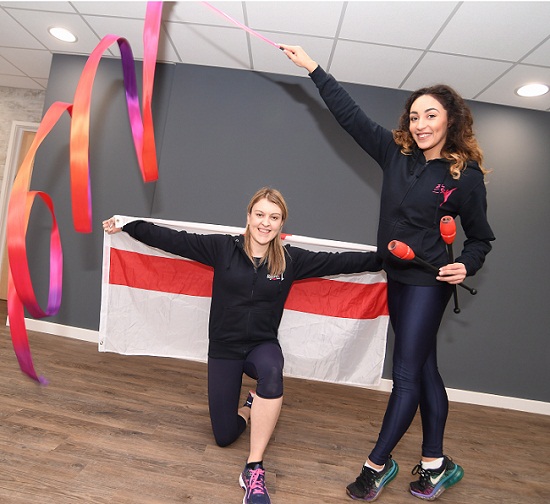 A Warwickshire physiotherapist is helping Britain's number one rhythmic gymnast towards fulfilling her dream of being the first in her sport to win an individual medal at the Commonwealth Games in over 20 years.
Louise Curley, who runs Rejuven8 Physiotherapy at Stoneleigh Park, is supporting City of Birmingham Gymnastic Club's Mimi-Isabella Cesar with her final push to being selected for Team England – and her ultimate goal of a medal.
She has been working closely with Mimi-Isabella for the last few years on her conditioning and recovery to be in peak performance for the Games, which resulted in her being ranked Britain's top rhythmic gymnast for the first time in December.
Mimi-Isabella, aged 23, from Sutton Coldfield, is now in the last stages of the selection process and is due to find out later this month whether she will be heading out to Australia to compete in Gold Coast 2018.
She said:
Louise has transformed me as a gymnast over the last few years and has played a massive part in terms of my physical and mental preparation so I can perform at my best.
For the last 18 months, my dream has been to stand on the podium at the Gold Coast Games and become England's first individual rhythmic gymnast to win a medal in 24 years. With the season I have had, I am confident I can achieve that.
Last year was my best in competitions to date. I was ranked the highest ever for a GB rhythmic gymnast at the World University Games, won an international title in Poland and bronze medals in Spain and Belgium. Ending it by being ranked Britain's number one for the first time was a defining moment.
Mimi-Isabella regularly visits Louise's clinic at Stoneleigh Park for prehabilitation and rehabilitation sessions. Louise also provides physiotherapy support for British gymnastics at national and international competitions.
Louise said:
Mimi is a lot stronger and highly motivated. She is beyond committed and it's a privilege to be helping her towards her goal at this year's Commonwealth Games.
She has made a tremendous journey over the last year in term of her fitness, and her belief and mentality. Our focus has been on building that momentum to give her the best chance of achieving her dream.
Mimi-Isabella has been in the GB and England squads since the age of 13, just three years after taking up the sport, and has competed at two world championships and the 2014 Commonwealth Games, when she just missed out on a team medal by finishing fourth.
She was an ambassador for Birmingham's successful bid to be the host city for the 2022 Commonwealth Games.
Despite her ranking, Mimi-Isabella receives no funding as her sport is self-funded. Since graduating with a first class honours degree from the University of Wolverhampton last year, she has worked as a PE teacher to help cover her costs.
Louise is also supporting Mimi-Isabella with sponsorship and is appealing for other individuals and organisations to help with her final push towards the Commonwealth Games.
Louise said:
She works four-days-a-week, trains up to 30 hours a week and until last year, was studying for a university degree. To give her the best chance of achieving her dream, she is looking for help with funding so it can be her full focus.
Donations can be made via Mimi-Isabella's GoFundMe page at https://www.gofundme.com/t62gx-commonwealth-games