21 August 2017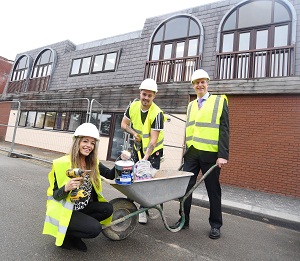 A booming hub for small businesses at Stoneleigh Park in Warwickshire is being expanded for a second time within four years to meet continuing demand.
The Rural Innovation Centre is being extended again by LaSalle Investment Management, which manages Stoneleigh Park, to create an additional ten serviced offices.
The centre was opened with 16 offices in September 2013 to provide a base for small and new businesses in rural parts of Warwickshire to grow and flourish.
It was originally part funded by DEFRA as part of the Warwickshire Rural Growth Network, aimed at boosting employment in rural areas, and led by Warwickshire County Council on behalf of the Coventry and Warwickshire Local Enterprise Partnership.
Due to its success, LaSalle converted an adjoining building to create a further 19 offices in 2016 as part of its on-going transformation of Stoneleigh Park into a leading centre for rural science, innovation and business.
LaSalle is now making a further investment in the conversion of a separate building, which backs onto the original centre, to take the total number of offices to 45.
Work is underway to adapt the two-storey building into a multi-office site and is due to be completed early in September.
Colin Hooper, estates director at Stoneleigh Park, said:
The Rural Innovation Centre continues to be a real success story and has provided a base for around 70 small and start-up businesses from a wide variety of sectors.
LaSalle has responded to the continuing demand for this high-quality serviced office space by investing a total of around £1.3 million in the overall project.
Five of the new offices within this latest extension are larger than the existing ones within the Rural Innovation Centre which broadens the range of space available and provides existing tenants an opportunity to expand.
iVentiv, which organises international learning and development conferences for senior executives within global companies, moved into the Rural Innovation Centre in 2014 and will be relocating to the new building to accommodate its growing team.
Russell Butler, CEO of iVentiv, said:
Since being at the Rural Innovation Centre, our team has gone from three to seven due to sustained growth and increasing demand for our events around the world, and we are currently recruiting to take that figure to 10.
The location, environment and facilities work really well for us and we're delighted to be able to continue to grow our business here with the creation of larger offices.
The Rural Innovation Centre provides fully-furnished offices with access to ultra-fast broadband as well as reception, meeting and conference facilities.
Amy Rogers, joint manager of the Rural Innovation Centre, said:
We receive enquiries on a daily basis from businesses interested in locating here and often have a reserve list.
The offices are available on flexible short-term leases which is particularly attractive for start-ups. There is a great sense of community among the businesses and we're looking forward to welcoming more.
Warwickshire-based JW Contracts and Services Ltd, the main contractor for refurbishment projects undertaken by LaSalle at Stoneleigh Park, is carrying out the work.