14 June 2017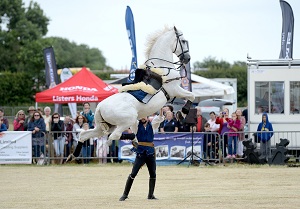 Thousands of people descended on the showgrounds opposite Stoneleigh Park for the 74th annual Kenilworth Show.
The rain held off as visitors from across the country enjoyed Coventry and Warwickshire's largest one-day agricultural show, organised by Kenilworth and District Agricultural Society (KADAS).
A full programme of entertainment included the Atkinson Action Horses, a grand parade of award winning livestock and a display of vintage and modern farm machinery.
New features for the 2017 show included the UK national stick making championships, an extended education area and the presentation of the inaugural Peter Yardley Memorial Trophy for the winner of the 2017 Classic Car competition.
The show featured more than 100 trade stands, as well as a home-crafts area and a series of crops competitions.
There was also a countryside area for visitors to enjoy, which featured archery, British Association for Shooting and Conservation (BASC) shotgun coaching and a gundogs exhibition.
BBC Breakfast broadcasted live from Stoneleigh Park throughout the morning, talking to visitors and exhibitors about Brexit and the General Election.
Charlie Weetman, director of the Kenilworth Show, said:
It was fantastic to see so many people enjoying the show and great to see some familiar faces and welcome a host of new visitors too.
A tremendous amount of hard work goes into putting this show on year after year, it's the culmination of 12 months of organisation and planning, so it's brilliant to see it all come together on the day.
This was the 74th show organised by KADAS and every year it gets bigger and better. It's a celebration of rural and country life and I hope everyone learned something new about agriculture in our region at the show.
I would like to thank everyone who helped us put on this year's event and of course everyone associated with Kenilworth and District Agricultural Society for their continued support over the years.