22 May 2017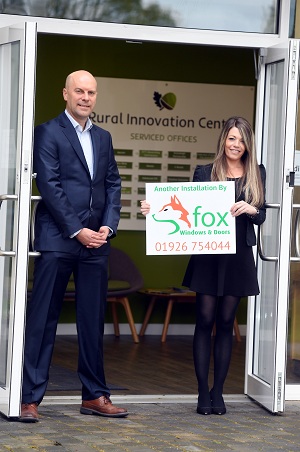 A window company that is renovating homes with its contemporary products and craftmanship is building up an impressive reputation from its base in Warwickshire.
Fox Windows and Doors is going from strength to strength as it brings fresh and modern designs to the market.
The firm, which is the brainchild of Richard Hanson and Neil Bird, was set up in March 2016 and is based within the Rural Innovation Centre at Stoneleigh Park.
It may have only been in operation for just over a year, but Fox Windows and Doors has already been endorsed by Which? as one of its 'Trusted Traders' and is also getting rave reviews from its customers.
The company focuses on the design, building and installation of products including windows, doors, conservatories and porches.
Both Richard and Neil have more than two decades of experience and expertise within the replacement windows and doors industry and can deliver everything from different coloured window frames to timber alternatives.
Richard said:
Everything has completely changed to what it was ten years ago. Many people don't want the standard white UPVC window anymore, so revolutionary alternatives have been designed.
New designs, colours and the way that products are created offering variety and choice to customers.
The company is progressing well and we are thrilled that our reputation is growing and that we have Which? behind us and clients can post reviews on the website, which is really getting our name out there, along with recognition of the quality of our work.
Another area of expertise for the team is conservatories, specifically changing their use by adding a solid lightweight roof – creating a new look and feel to the home.
Fox Windows and Doors moved into the Rural Innovation Centre in July last year and it has proved the perfect base of operations for the team as it offers its services throughout Warwickshire, Leicestershire and Rutland.
Neil added:
Stoneleigh Park and the centre are a fantastic location for us.
It has been the perfect place for us to develop our brand and move the company forward.
The Rural Innovation Centre is a collection of serviced offices set in the heart of Stoneleigh Park with the aim of helping small businesses grow and flourish.
Amy Rogers, manager at the Rural Innovation Centre, said:
We are pleased that Fox Windows and Doors chose the Rural Innovation Centre as its base of operations.
As serviced offices, we are able to offer support to the firm and hope we can continue to help the team progress in the future.