19 June 2017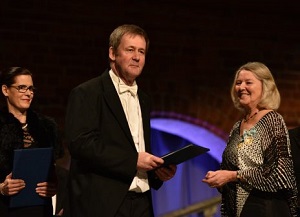 The chief executive of Innovation for Agriculture (IfA) based at Stoneleigh Park has received international recognition for the organisation's work.
David Gardner recently travelled to Stockholm to become an International Fellow of The Royal Swedish Academy of Agriculture and Forestry.
The award was in recognition of the work that IfA has done in building relationships across Europe.
David said: "It was a great honour to receive the award from the Academy, which is one of IfA's partners in 4D4F, the initiative which aims at developing a network to improve the decision making on dairy farms based on data generated by sensors."
IfA is a consortium of English agricultural societies, including the Royal Agricultural Society of England of which David is also chief executive, bringing the latest developments in new science and technology to the farming community.
The organisation connects farmers with farming research, working with leading agricultural researchers, businesses, landowners and farmers to develop the knowledge and technologies to make modern farming more sustainable, resilient and productive.
It helps farmers put this knowledge into practice through practical and interactive workshops, farm walks and on-farm demonstrations.
Reducing antibiotic use in farm livestock is the focus of a forthcoming conference to be held at the IfA at Stoneleigh Park on Tuesday, July 4.
The conference will be addressed by the Veterinary Medicines Directorate, a veterinary professional and the campaign group, Alliance to Save Our Antibiotics, followed by a series of practical sessions.
Conference places are £30 per person and can be booked via www.ifa-antibiotic.eventbrite.co.uk. Further details can be found at www.i4agri.org